Kristin C. Bains, MD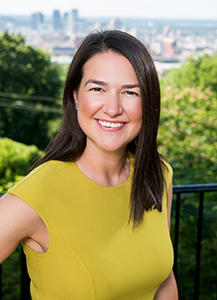 Dr. Bains' practice encompasses comprehensive ophthalmology with an emphasis on the anterior segment of the eye. This includes refractive error (including nearsightedness, farsightedness, and astigmatism), cataracts, and diseases affecting the cornea.
Dr. Bains is a native of Birmingham. She received her undergraduate degree with honors from Washington and Lee University and her medical degree with honors from the University of Alabama at Birmingham. Her residency training in ophthalmology was performed at the University of Alabama at Birmingham and the Callahan Eye Foundation Hospital where she served as a chief resident. She completed a fellowship in the subspecialty of cornea, external disease, cataract and refractive surgery at the Cullen Eye Institute at the Baylor College of Medicine in Houston, Texas.
Dr. Bains performs the most current cornea and anterior segment procedures available in the United States. These procedures include cornea transplants (endothelial keratoplasties, penetrating keratoplasties, and deep anterior lamellar keratoplasties), INTACS, limbal stem cell transplants, and keratoprostheses. Other interests include excision of primary or recurrent pterygia, premium and astigmatism-correcting IOLs, and complicated cataract surgeries, including dislocated lenses and post-refractive surgery cases.
Dr. Bains also performs a wide variety of refractive procedures including LASIK, PRK, limbal relaxing incisions, refractive lens exchange, and phakic IOL's.
Corneal disease interests include corneal dystrophies (including Fuchs' dystrophy) and degenerations, corneal infections (including glue patches and amniotic membrane grafts), keratoconus, contact lens-related problems, and dry eye.
Dr. Bains is a member of the American Academy of Ophthalmology, the Alabama Academy of Ophthalmology, and the American Society for Cataract and Refractive Surgery. Dr. Bains has presented papers and posters at various ophthalmological meetings, and she continues to be involved in cornea and anterior segment research. Dr. Bains was elected to Best Doctors in America in 2015.
Dr. Bains resides in Birmingham with her husband, Jason, and daughter, Emma.